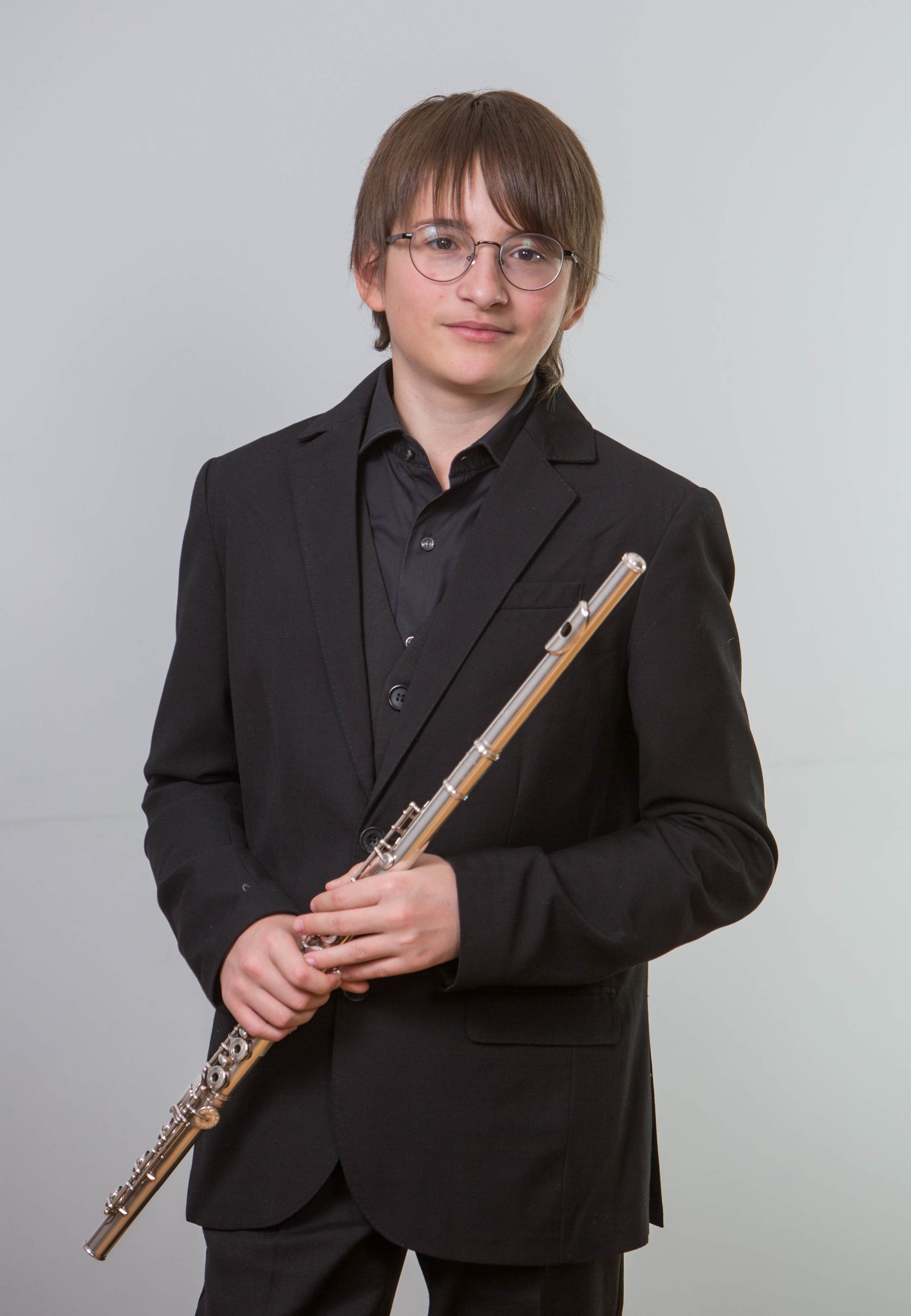 Flautists-pianists Zoya Vyazovskaya, Timur Jafarov and Mikhail Kaploukhiï are students and graduates of Moscow's world-famous Gnesin Music School. Prizewinners of multiple national and international competitions, they are making their Pushkin Hosue debut presenting contrasting programme of Russian and Western classics. Over 120 years old, the Gnesin school is one of the keepers of the renown Russian musical school, which is admired by music-lovers across the globe. The programme will feature solo piano compositions and trios by Chopin, Debussy, Prokofiev, Rachmaninov, Rimsky-Korsakov, Saint-Saens, Taffanel, Vasilenko and Widor.
Programme
Compositions for flute and piano, duets and trios by Chopin, Debussy, Prokofiev, Rachmaninov, Rimsky-Korsakov, Saint-Saens, Taffanel, Vasilenko and Widor.
 
Zoya Vyazovskaya is a flautist, a soloist of the Classics-Art Ensemble and the Altus Flutes artist. A teacher at the Gnessin Music School in Moscow, one of the leading music institutions in Russia, she graduated from the Royal Academy of Music in London in 2013. Her teachers included William Bennett (flute) and Colin Stone (piano).
A touring artist, Zoya performs solo in Russia and in Europe, appearing at such festivals as the British Flute Society Convention, Slovenian Flute Festival, Aldeburgh Festival, Bel Canto Fund festivals, playing with orchestras including Odense Symphony Orchestra, Moscow Conservatory Concert Orchestra, Meladina Ensemble, 'The Seasons', 'Musica Viva' and her own "+1" orchestra.
She is a permanent member of a well-known Russian wind ensemble Classics-Art which regularly tours with virtuosic multi-instrumental programmes in all major philharmonic halls within Russia and throughout Europe in countries including Latvia, Finland, Sweden and France.
In addition to performing career, Zoya organises and runs music festivals and competitions. Her project 'Great Flute Days' in cooperation with Galina Kuzennaya has proved itself as the biggest flute festival in Russia. Among the guests there were such artists as Denis Bouriakov, Trevor Wye, Matthias Ziegler, Raffaele Trevisani, Diana Schulz and many others. Zoya and Galina run an internet flute competition 'My Favourite Flute' having well-known international artists among the jury such as Clare Southworth, Krzystof Kaczka, Matthias Ziegler, Patricia Nagle, William Bennett, Raffaele Trevisani, Mihi Kim.
Zoya is the top prizewinner of the Carl Nielsen International Flute Competition (2010, 2nd prize) and Tzybin International Flute Competition (2007, 1st prize). As a teacher she has been invited to teach in Richter Foundation Summer School in Tarusa and since 2015 she gives regular master-classes in Magic Flute Center in Moscow.

Timur Jafarov is a multiple prizewinner of national and international flute competitions. He is a fellow of the International Charitable Foundations of Vladimir Spivakov and that of Russia's Ministry of Culture. Born in 2000 in the city of Cheboksarï, Timur started to practice flute at the Maksimov Musiс School at the age of six. Since 2015 he is a student at the Moscow Gnessin School, class of Zoya Vyazovskaya.
He performed at Moscow's International House of Music as part of the festivals 'Moscow meets friends' and 'The Vladimir Spivakov Charitable Foundation presents...'. In Naberezhnye Chelny he performed as the soloist with the Chamber Orchestra 'Provincia'.

By the invitation of Spivakov's foundation, Timur participated in concerts in the city of Ho Chi Minh (Vietnam) as well as international festivals in France (Paris), in Bulgaria (Balchik) and Montenegro.
He has won the First Prize at the 2015 Moscow Dolzhikov competition for young performers on wind and percussion instruments, Fourth Prize at the International Competition for Young Musicians of the Moscow Central Music School (2018) and a Diploma at the 2017 Moscow Conservatory Competition.
Mikhail (Misha) Kaploukhiï was born in Moscow in 2002. He started playing the recorder at the age of five switching to the transverse flute at the age of eight. When he was nine, Misha started playing piano too. Now he is in his first year at the Gnessin Music School. His flute professor is Oleg Khudakov, piano — Mikhail Yegiazaryan.
Mikhail is laureate of national and international competitions. He regularly performers across Russia in the capacity of a soloist and the chamber musician. His recent appearances as a concert soloist included Ryazan, Dubna and Moscow Symphony orchestras.